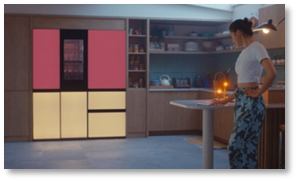 KEY TAKEAWAYS FROM CES
Active's Rob Acquaotta shares his thoughts, insights and "miscellaneous musings" in his two-part series on all the tech that CES 2023 had to offer. Part 1, "All things Automotive" puts the focus on our electric future, digital aesthetic, and autonomous driving. In Part 2, "Things That Make You Go Hmmmm…" Rob highlights "delightful and just plain wacky" gadgets; from flying cars, why you'll want to host a dance party in your kitchen, social baking, and advances in at-home diagnosis.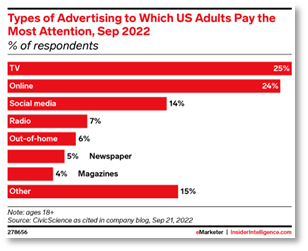 TV TOPS ATTENTIVENESS
According to a recent study from Civic Science, TV commercials are the top ad format in terms of attentiveness, with a quarter of US adults paying the most attention to TV commercials." Close behind, 24% of respondents pay the most attention to online ads, while social media draws the attention of 14% of adults. Magazine and newspaper ads fall toward the bottom with just 4% and 5% paying them the most attention. It's predicted that linear TV ad spending will reach $62.42 billion in 2023, a single digit decrease over 2022, while CTV "will grow annually by double-digit rates. (eMarketer: 1/5/23)
STREAMING SUPRISE
A new study from HarrisX and MoffettNathanson Research found that "streaming services as a share of U.S. homes are now at 82% in the fourth quarter of 2022 — up from 81% in the third quarter" and up from 79% in fourth quarter 2021. The report's authors indicate that streaming is reaching maturity but that "newer cord cutters are not necessarily new potential streamers". Instead, "new cord-cutters are more likely existing streamers that were allowing many media companies to double-dip from both streaming and traditional pay tv subscriptions." As of 4Q22, broadband-only homes (ie streamers without a pay TV service) represent 44% of the US, up from 42% for 3Q22. (MediaPost: 1/11/23)
UPFRONT OVERHAUL?
The upfront model, which has existed for decades, is eroding due to measurement changes, streaming shifts, flexibility demands, buying approaches, and economic instability. While 2023 won't find it going away just yet, calls for an embracing of "heightened transparency, flexibility, and transformation across the ecosystem" require the industry to "let go of historical norms." At the heart of the upfront is Nielsen measurement, which has "been the primary basis for upfront transactions for decades", and the move to adopt alternatives is a seismic shift. And as may be expected, the buy side looks for greater flexibility in upfront deals, while the sell side is pushing for less stringent cancellation options on streaming deals. (Digiday: 1/6/23)
MEASURING PREMIUM VIDEO
Traditionally, Nielsen's ratings addressed how many people were watching TV shows, but with online growth, now "advertisers are looking for cross-screen measurement" including reach, frequency, and information on user-generated content such as YouTube and TikTok. This week, Nielsen is launching Nielsen One this week which will measure ads across screens and is "designed to enable advertisers not only to see how many people see their commercials, but to determine the reach, frequency, and ultimately the effectiveness of campaigns." At the same time, programmers announced the "Joint Industry Committee" which intends "to set standards for the measurement of what they call premium video." (NextTV: 1/9/23)
INSIDE EDITION TURNS 35
On January 9th, Deborah Norville sat down with the crew from CBS Mornings to share memorable moments from 35 years of Inside Edition, including the time she hosted from her hospital bed; nine hours after giving birth to her daughter. As host for more than two decades, Norville is the "longest serving female news anchor on American television." (CBS News: 1/9/22)