by Robert Acquaotta, SVP Integrated Media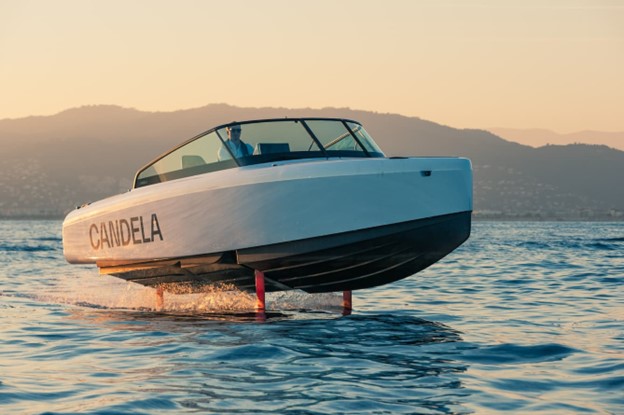 More from CES 2023! And before you judge me for reaching back to a pop song from the early '90's for headline inspiration, note that these highlighted products have little else in common except they cause you to stop and ponder.
In Part 1 we looked at All Things Automotive. For Part 2, here are our key takeaways from across the rest of the show. Hmmmm….
The Most Interesting Things That Fly Are Not Drones or Planes
Would you believe boats and cars?
The Candela C-8 is a new 100% electric-powered hydrofoil boat. Instead of smashing through waves and creating huge swells like ordinary motorboats, the C-8 rises above the water at speed to fly silently above the surface, leaving behind no wake. There is an onboard flight controller that continuously adjusts the hydrofoils to maintain a stable ride. It can be seen cruising through water here.

As for flying cars, the Aska showed off their four-seat prototype A5.  It's electric powered (and can be charged at home or conventional EV stations) and has a small gas engine as well for range extension.  Roughly the size of a large SUV, the A5 can be driven on roads like a car and take off vertically to fly in the air.  Subject to government certification approvals, Aska is targeting 2026 to begin customer deliveries. A short video visualizing the drive and fly functionality can be viewed here.
Your Kitchen Will Host Your Next Dance Party
LG's MoodUp refrigerator has color-changing doors with 190,000 color combinations that can be changed to suit your mood. Turning them all off provides a still attractive muted white and gray. But why do that? Set it to Party Mode, synced with its built-in Bluetooth speaker, and let the music and colors unleash your inner Dancing Queen! See it in action here.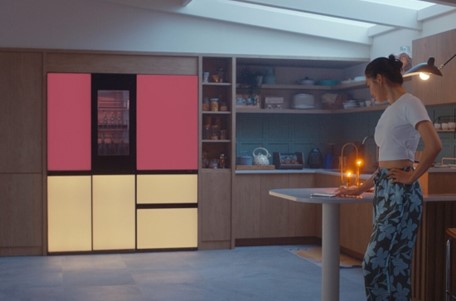 Your Next Bake Can Be Smart AND Social
First, the truly Smart part: GE Profile's new Smart Stand Mixer has a built-in scale that reads weight, so you can put ingredients directly into the stand mixer, plus a built-in timer that stops the mixing when the timer stops. An Auto Sense mode determines when something is the right consistency and stops automatically (should be helpful for those tricky Lemon Meringue Pie recipes.) And if you've ever wrestled with twisting the batter-covered attachments out of a mixer, you'll appreciate that the whisk and paddles simply snap in place and have a quick-release motion to remove them.
As for the Social part: once your prized recipe is baking in the Samsung Bespoke AI Oven, it has cameras inside and technology that can livestream the excitement directly to social media! On a more practical note, the oven includes Full Steam, Air Fry and Sous Vide options for food preparation, and it can send notifications to help you prevent your food from burning.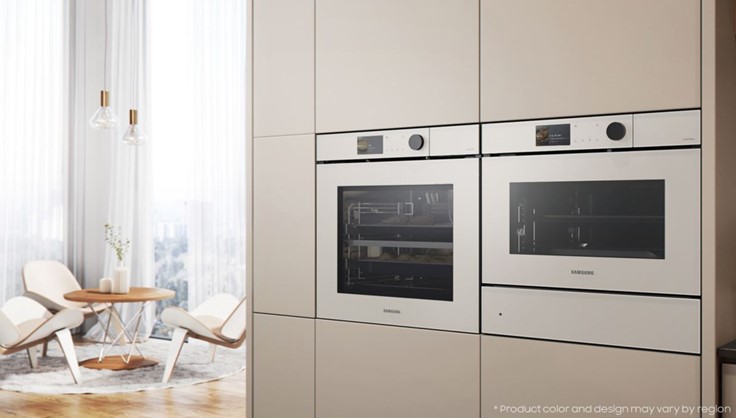 The Next Frontier in At-Home Testing and Diagnostics: Urinalysis…?
The pandemic made at-home testing with rapid results a new and widespread consumer expectation, so it's no surprise to see new wearables and devices to measure and test and diagnose. But urinalysis? Withings believes so. Their new U-Scan is an at-home, hands-free urinalysis test that you place in your toilet. The hockey puck-like device has a thermal sensor that automatically turns on with contact, collects a sample to test, and sends the results via Wi-Fi to the Withings app. Initial use cases are for reproductive health (tracking luteinizing hormone, which can help detect menstrual cycle and estimate an ovulation window) and nutrition (measures PH and hydration in addition to ketones and vitamin C).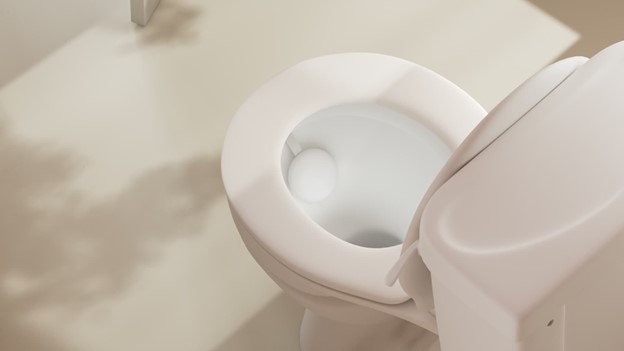 Miscellaneous Musings
The TVs are as spectacular as ever! Of note, LG's latest Signature OLED M TV (97"!) receives audio and video wirelessly and claims to be the world's first consumer TV with "ZeroConnect Technology". Though elsewhere at the show, a company called Displace was also showing off a world's first truly wireless TV you can attach to just about any flat surface including a window. LG's wireless approach still requires a power cord for the screen, whereas Displace employs rechargeable batteries.
Speaking of TVs, Roku announced its line of 11 models in screen sizes ranging from 24" to 75". Roku claims that one out of every three TVs sold in the US runs Roku software; most commonly on brands like TCL and Hisense. This appears to be a bid to further expand market share by putting the well-known Roku brand front and center.
Smart punching bag? This is an interactive cover from i-percut for punching bags with sensors that collect data and show results via app of your workout (force of punches, speed and average strength etc.)
A few years back we saw the first discreet blood pressure monitor from Omron that hid the inflatable cuff in a watchband. This year, Valencell showed a prototype of the first cuffless blood pressure monitor, which uses a clip-on finger-based blood pressure measurement device. Pending FDA approval, the target price point is around $100
Samsung demonstrated their new SmartThings Station, a smart home hub and fast charging pad. It offers quick setup and compatibility with a range of home products, including Matter devices, and is another way to control all connected home devices. For example, setting your phone down on charging pad can signal the end of your day, and it could turn down lights, temperature etc. as your nighttime routine.
So, to wrap up, flying cars and boats? Social media oven connectivity? Home urinalysis? Hmmm. Until next year, thank you CES!