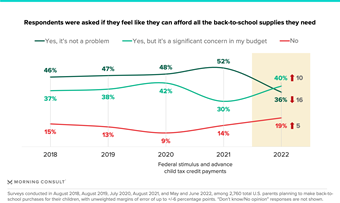 BACK-TO-SCHOOL ANXIETY & INFLATION
Inflation concerns are raising parents' anticipated spending levels, despite most of them shopping the summer sales. Anxiety is increasing as well. In a survey by The Morning Consult, "stress about shopping for the upcoming school year" rose "7 percentage points in the last two weeks." While most parents can afford BTS supplies, only 36% say it's not a problem (down 16% from 2021), while 40% say it'll be a budget concern (+10% vs. 2021). (Morning Consult: 6/23/22)
LINEAR CHANNELS ON SVOD SERVICES?
In his contribution to NextTV, Alan Wolk, co-founder and lead analyst for media consultancy, proposes that "it's only a matter of time" before linear channels are available on SVOD services. His rationale is that "in addition to giving viewers a reason to explore the depths of the library, the linear channels give them 'permission' to watch shows other than high-profile originals, which will also help them to justify the cost of the service." (NextTV: 6/24/22)
SYNDICATION RATINGS
For the week ending June 19th, Jeopardy! held the top spot among game shows and all of Syndication, posting a 5.0 live-plus-same-day national Nielsen HH rating; topping second-place Family Feud at 4.9. Judge Judy led court shows and was the third-ranking show overall, "hitting a 4.4 despite heavy daytime preemptions." Dr. Phil and Live with Kelly and Ryan topped talk shows at a 1.5 rating, while Inside Edition and Entertainment Tonight led magazine shows with a 2.0 and 1.9, respectively. The top off-network sitcoms include Big Bang Theory (1.8 rating) and Last Man Standing (1.1 rating). (TV Newscheck: 6/28/22)
UPFRONT SPENDING
eMarketer projects that CTV spending will increase 35% this year (to $6.41 billion) from upfront sales, and another 35% in 2023 (to $8.14 billion.) eMarketer also forecasts that "traditional, linear, prime-time TV upfront dollars" will be flat for the 2022/23 season; increasing by less than 1% to $19.21 billion, and another 2.2% (to 10.63%) the following year. The picture for broader upfront digital video spending is also expected to rise; up 30% to $9.39 billion in 2022 and up 24% to $11.63 billion in 2023. (MediaPost: 6/27/22)
JULY 4TH CELEBRATIONS
A new survey released by the American Farm Bureau Federation found that an Independence Day cookout will cost Americans 17% more on average than it did a year ago, primarily due to increases in beef costs. For a patriotic twist on summer favorites, and alternatives to burgers and hot dogs, food and lifestyle expert Alejandra Ramos joined "TODAY to share four of her favorite festive recipes for the ultimate July Fourth spread" including a festive clam bake, fish tacos, corn macaroni salad, and berry-flavored marshmallow treats.