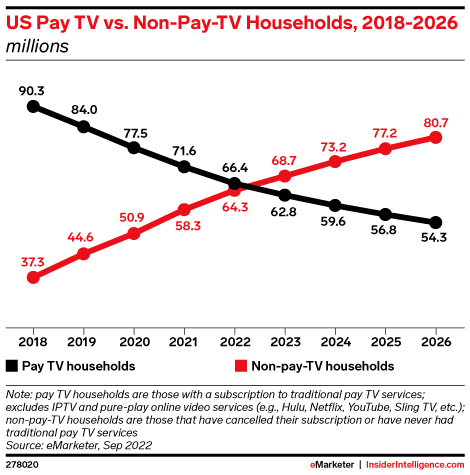 DIGITAL VIDEO TRENDS
eMarketer released its Q3 report, which focuses on monetization, audience, and content. Included are "updated cord-cutting forecasts, Warner Bros. Discovery's new approach to content, and Netflix's dive into advertising and crack-down on password sharing." The report seeks to answer three key questions: To what degree is pay TV viewership declining? How are streaming services expanding their advertising offerings? Which streaming services are pivoting their content strategies? Of note, "US pay TV will decline 7.2% this year to 66.4 million households." (emarketer, requires subscription: 9/27/22)
EXPECTING TO SPEND MORE THIS SEASON?
In a survey fielded by Gartner, only 10% of respondents expect to spend more this holiday season. Respondents are expecting the same or similar deals to that of the 2021 holiday season. Factors contributing to purchasing decisions include price, value, and free shipping. Inflation has sparked increased budgeting and "this hesitancy around budgets, coupled with new timing from consumers regarding their holiday shopping, will challenge marketers to have an always-on approach." However, spending is still predicted to increase from last season; according to the NRF, "consumer spending will rise to $10.6 billion on Halloween this year from $10.1 billion in 2021." (Retail Dive: 9/30/22)
PWC RESOURCES
The PwC 2022 Outlook segment findings are available on their website for 15 markets and industry segments including TV Advertising, TV/Home Video, OTT video, cinema, and more. The TV advertising segment will continue to grow this year, ahead of 2019 levels, while OTT revenue growth is stabilizing post-pandemic, and cinema is expected to hit "new heights in 2023." The accompanying media and entertainment outlook report includes "more in-depth coverage of the shifting patterns of consumer behavior, as well as the increase in digital advertising revenue as the shifts continue towards digital.
NETWORK NEWS MORPHS INTO A STREAMING STYLE
This fall, for the first time, the big three networks (ABC, NBC & CBS) have new competition for weeknight news viewership. With the launch of John Dickerson's CBS News Prime Time, all three news divisions now have separate streaming newscasts, "a nod to the future and bid to reach young people who aren't watching television at dinnertime." They're also more differentiated than the evening reports by Lester Holt, David Muir, and Norah O'Donnel. CBS News Prime Time show appears to be the most interview-heavy, while ABC's Live Prime will offer more long-form content, extended beyond the broadcast airing. For NBC, the focus will be on "delivering a high story count." (TVNewsCheck: 9/28/22)
HOW OLDER ADULTS ADAPT TO MEDIA POST-COVID
Research by Broadbeam Media, Active's performance and analytics arm, looked into the post-covid media habits of older adults and discovered that they are adapting quicker than before. When it comes to TV, linear is still at the top; "84% of this group had watched broadcast or cable TV in the last month. Only 80% watched any streaming service in the same time period, topped by Netflix at 50%." And while it isn't likely that they'll cut cords with linear TV just yet, streaming options have become increasingly popular, as "these free streaming channels are serving as TV replacement when looking at the genres older adults are watching." (TVNewsCheck: 9/29/22)