PEARL RIVER, N.Y. — (July 15, 2019) —  Active International, a seven-year business partner with fast-casual restaurant chain Firehouse Subs®, was awarded the 2019 "Vendor of the Year" award on June 26 at the annual Firehouse Subs Franchise "Family Reunion" Conference hosted in Orlando, Fla. Active International won the signature Firehouse Subs Axe Award rising above the brand's arsenal of strong vendors who provide a variety of services to the award-winning franchise company, celebrating its 25th anniversary this year. The award is given each year to a vendor who goes above and beyond, creates value-added benefits for franchises as well as the company as a whole, and is a mindful and productive partner.
"Active International has always maintained a high level of integrity and accuracy and in my eyes is as much a partner as they are a vendor," said Marisa Burton, Firehouse Subs Director of Field Marketing. "This partner has saved franchisees more than $2 million in gift cards program fees during our relationship and has been purchasing our media, following the direction of our agency of record since 2013. Active has been a quiet and critical partner in helping franchisees and Firehouse Subs grow our business."
Bill Georges, Global Chief Operating Officer at Active International added, "We are very proud of the Firehouse Subs account team here at Active International for the work they produce daily on behalf of the restaurant brand. Our efforts being recognized as Firehouse Subs Vendor of the Year speaks volumes to the collaboration and partnership approach between our companies."
About Active International:
Nearly four decades ago Active International disrupted the marketplace by developing an innovative, market-leading approach to Corporate Trade.  Active takes a no fear, client-centric approach gaining insights to expand capabilities and redefine what is possible, improving business outcomes, increasing commercial agility and allowing clients to transform assets into new forms of value. Active International is an employee-owned (ESOP) company with offices in 14 countries with opportunities in media, asset solutions, shopper marketing, real estate, supply chain & travel/hospitality. www.activeinternational.com
About Firehouse Subs:
Celebrating 25 years of business in 2019, Firehouse Subs® is a fast-casual restaurant chain with a passion for Hearty and Flavorful Food, Heartfelt Service and Public Safety. Founded in 1994 by brothers and former firefighters Chris Sorensen and Robin Sorensen, Firehouse Subs is a brand built on decades of fire and police service, hot subs, steamed and piled high with the highest quality meats and cheeses and its commitment to saving lives through the establishment of the non-profit Firehouse Subs Public Safety Foundation®. The founders are the real deal, the food is their creation and the restaurant is built upon a family of franchise operators who share their same passion for generously serving food and community. This year, Firehouse of America, LLC (franchisor for the brand) will donate a portion of all purchases at U.S. Firehouse Subs restaurants to Firehouse Subs Public Safety Foundation, resulting in a minimum donation of one million dollars. Firehouse Subs is consistently recognized as one of the leading brands in the U.S. among consumers. Newsweek recently named Firehouse Subs No. 1 in the fast-casual restaurant industry on its 2019 list of America's Best Customer Service Brands. In 2018, Firehouse Subs was named the No. 1 brand in the restaurant industry that "Supports Local Community Activities" and ranks No. 1 among Fast Casual brands in "Food Quality" and "Taste and Flavor" in Technomic's Consumer Brand Metrics rankings. Firehouse Subs was also named No. 2 in "America's Favorite Fast Casual Chain" rankings by Technomic Ignite.
Enjoy more subs. Save more lives. To learn more, visit www.firehousesubs.com
Photo (left to right): Don Fox, CEO, Firehouse Subs; Marisa Burton, Director of Field Marketing, Firehouse Subs; George Blunt, SVP, Client Management, Active; Howard Butterman, SVP, Sales, Active; Christopher Bassett, Associate Director, Local Media, Active; Eric Mollo, VP, Client Management, Active; Kristen Majdanics, VP, Marketing , Firehouse Subs; Chris Sorensen, Owner, Founder and Principal, Firehouse Subs and  Vince Burchianti, Chief Financial Officer of Firehouse Restaurant Group.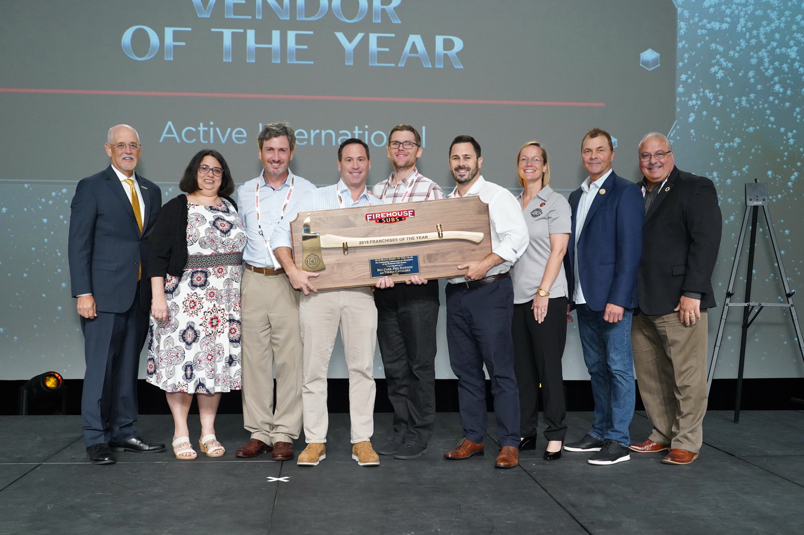 For More Information:
Active International
Email: Donna Schmidt – donna.schmidt@activeinternational.com
Phone: (845) 732-8729
Firehouse Subs
Email:  PR@firehousesubs.com
​
---
Achieve More in the What's Next Economy®