U.S. AD ECONOMY EXPANDS
For the second consecutive month the U.S. ad economy grew 2.7% in September, since the effects of the COVID-19 pandemic sent it into decline in March. While September's increase is roughly half of August, this indication of growth supports industry forecaster projections that ad spending is once again begin expanding. September's ad growth came primarily from the largest advertisers, with the top 10 ad categories expanding 2.9% and digital media rising to 20.6% (MediaPost: 10/20/20).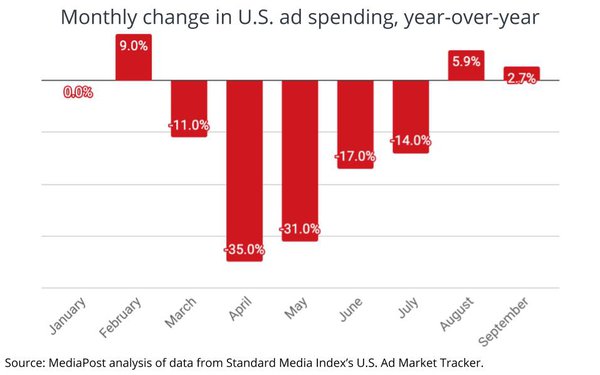 POLITICAL ADVERTISING
With just a few weeks to go before the election, political advertising spending has hit a record of $6.7 billion. Most of that spending has gone to local TV stations ($4.1 billion) and local cable TV platforms ($1 billion). Only $247 million has been spent on national broadcast and cable TV networks. Los Angeles and Phoenix, two of the largest markets, have received over $200 million so far (MediaPost: 10/16/20).
According to Kantar, Spanish-language TV and Radio has seen a large increase in political ad spending during this election cycle. Since September 1, nationwide $932 million has been spent on Presidential campaign ads across TV and radio, with 62% ($581 million) behind Joe Biden, while President Trump's re-election campaign has been backed by $352 million in TV and radio ads. Three of the top five markets are in Florida, with Orlando seeing $51.2 million, Miami getting $47.9 million and Tampa receiving $46.1 million (NEXTTV: 10/19/20).
SPORTS ALTERNATIVE
With TV viewership of live sports lower than expected, marketers are turning to scatter, in response to the unstable marketplace. While scatter CPMs can be higher than upfront rates, the added flexibility that scatter affords allows advertisers to "edge their buys against NFL and college football games that have been seeing lower than expected viewership and are at an increasing risk of being rescheduled because of players testing positive for coronavirus." The tightness that began in September is increasing again in mid-October, some advertisers are looking beyond their traditional programming (e.g. sports and cable news) into more entertainment and other times of day like afternoons (Digiday; 10/19/20.)
BROADCAST ENDURANCE
An analysis of TV viewership by Broadbeam's Tess Erickson, was featured in TVNewscheck (10/16/20). Broadbeam Media is Active's performance and analytics arm. Tess' findings, based on original research using Nielsen Media Impact, shows that while stay-at-home orders that were put in place at the start of the pandemic "accelerated long-term viewership changes and channeled ever-higher numbers towards streaming and leaner cable  packages … broadcast remains a reliable and flexible buy for advertisers."
ADELE TO HOST SNL
Adele is making her SNL return on Oct. 24th as the host with musical guest H.E.R. The singer shared her excitement over her upcoming hosting duties by posting on Instagram: "Bloooooody helllll I'm so excited about this!! And also absolutely terrified!" Adele's turn as host comes 12 years to the day of her first SNL appearance, which helped launch her career in the United States. "It feels full circle and I just couldn't possibly say no!" she shared (THR.com; 10/18/20.)