Active International has helped leading hotel brands, REITs, owners, & management companies acquire capital and operating products through our Active Advantage Program. Under this Program, all products are sold at each purchaser's normal negotiated/direct pricing and as additional added value, Active commits to make a pre-agreed upon amount of cash bookings in a purchaser's hotel(s) (at normal prevailing (or group negotiated) rates).
Active is pleased to announce a new partnership with Option One Energy, a leading energy consulting/management company helping businesses small and large save money on their gas, water and electricity spend. Read their latest feature in gb&d magazine – click here to download PDF. Option One Energy is now offering Verdant Energy Management Solutions which are certified with the below brands:

• MANAGE & MONITOR rooms from anywhere and from any internet connected device, 24/7
• REDUCE HVAC ENERGY by up to 40% without compromising the comfort of guests.

      – Temperature Setback automatically adjusts the temperature to save energy when the room is unoccupied.
      – Flexible Setbacks/Dynamic Recovery ensures that the guest's chosen temperature for rooms is always restored within a predetermined period.
      – Setback Limits allow max/min room temperature to be set when rooms are empty.
      – Set Point Limits prevents guests from setting room temperature above/below a predetermined temperature.

• ALERTS help engineering & maintenance DIAGNOSE INEFFICIENT HVAC equipment without disrupting guests.
• Housekeeping staff can use REAL-TIME ROOM OCCUPANCY STATUS to coordinate housekeeping duties.
• Hardware to suit any need: WIRED, WIRELESS, HYBRID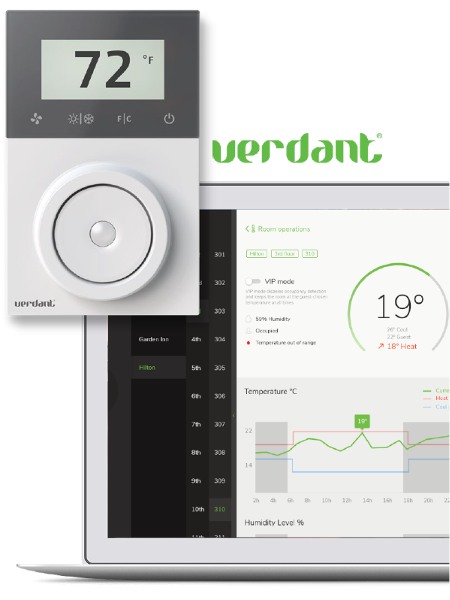 To hear more about these products or to receive an estimate, please contact TravelOps@activeinternational.com.